Properties in Year of the Monkey
Market Updates and Networking Luncheon by Property Club Singapore

Synopsis
What are the implications of different property sectors in the face of market slowdown, rate hike, supply glut and soft rental?
What are the hidden gems and common pitfalls in the Year of Monkey?
Which are the best property investment strategies in the new year?
Who will be the winners and losers in 2016?
Come and listen to what industry experts have to say about the property market as they look into the crystal ball.
Caution: It is not a "sit down and listen" session but an event meant for both learning and networking. Expect high level of participation and do seize the opportunities to:
- Join us at the luncheon to network with our speakers and fellow property buyers and investors;
- Participate at the roundtable discussion session to contribute your thoughts; and
- Consult the subject matter experts sitting at your table.

Event Details

Date : January 17, 2016 (Sunday)
Time : 12.30 p.m. – 4 p.m.
Venue: NTUC Centre

Agenda
Luncheon and Networking
(All attendees)
Property Hotspots: A Hidden Gem or A Monkey On Your Back?
(Ms Vina Ip, Author of No B.S. Guide to Property Investment)
- Where are the gems and why nobody tells you
- What to avoid buying and how to get that monkey off your back
Property Sectors: What's In and What's Out In 2016
(Ms Debbie Lam, Manager at Consultancy & Research, Advisory Services, Knight Frank Singapore)
- How are different sectors performing in 2016
- What are the trends and the in/out checklists
How to Avoid the Pitfalls of Property Investments in 2016
(Mr Andrew Chee, Head of Valuations, SRX Property)
- What are the common property investment myths
- How to deploy the smart tools to avoid pitfalls in property investment
Roundtable Discussion: When and What to Buy in the Next Few Quarters
(Speakers with all attendees)

Speakers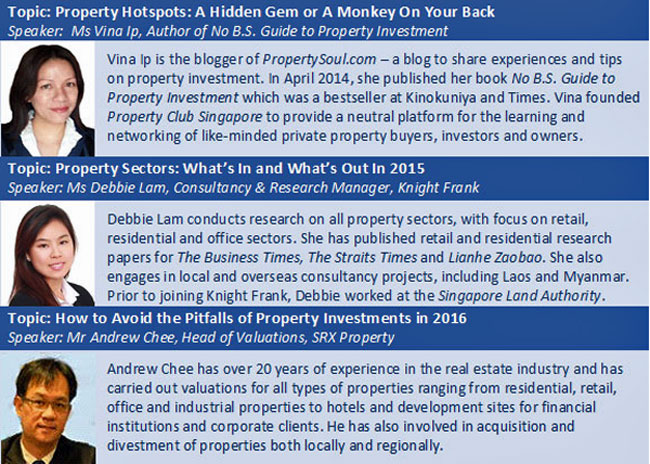 Fee
Member: $35
Non-member: $55
1. Registration fee includes buffet lunch at the start of the event.
2. Seats are limited. Registration will be closed once function room reaches full capacity.

Registration
Registration is closed. Thank you for your support.
You can sign up for Property Club Singapore membership now to enjoy all the member benefits.

Event Photos