No B.S. Guide to Property Investment - Dirty Truths and Profitable Secrets To Building Wealth Through Properties (2014)
Kinokuniya Monthly Bestseller (Finance & Investment No. 2, Business & Economics No. 10)
Times Non-Fiction Bestseller No. 8 (week July 21 - 27, 2014)
Paperback S$29.9
- Comes with author's autograph.
- GST and shipping cost included.
- Deliver to Singapore addresses only.
Ebook at S$28.0 order here for an instant PDF download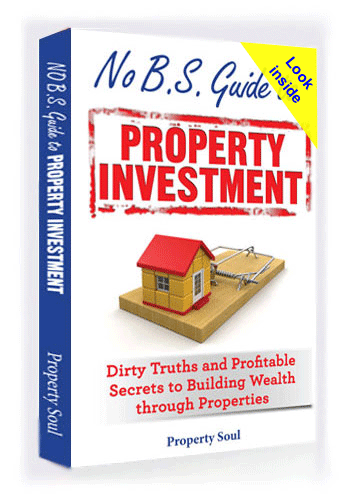 "I have read only one book multiple times so far in my life - The Intelligent Investor by Benjamin Graham. Your book is the second book that I will reread for many times." - Martin
"Thank you for all your sharing. I find your book to be the best property investment book that I have ever read." - Chee Hoe
"Thanks for writing and sharing your personal experience. It is much better than other books written by agent team leaders or other KEOs/CEOs that I have read." – Yourong
"A good load of info and much better than those from seminars/courses. Thanks for sharing!" - Thomas
"Thank you for pointing out the most common pitfalls and mistakes that most amateurs make as I would have surely made them had I not read your book." – Mel
"It is very rare to find a successful investor like you sharing your experience and thoughts. Love your writing style too - simple, straight to the point and it flows well!" - Tey
"It really is an interesting read, thanks! Great to have a guide with understanding of the local market." - Terence
"The book is filled with real life experiences and honest sharing of strategies in property investment and provides readers a complete guide to it." - SG Young Investment
"I genuinely believe that your book will probably save me a great deal of angst and heartache in the future. I have already applied some of your lessons and backed out of buying a property which I was unsure of. I realize that this was indeed a good decision and worth many times the cost of your book." - Andrew
Read the free preview of the book.
Read book review by SG Wealth Builder.
Read book review by Financial Bookwormer.
Watch the book trailer videos below.